Facebook Blasts Biden Admin After Biden Attacks Them–Accuses Biden Admin Of Using Them As "Scapegoat"ProTrumpNews Staff
The tyrants are now fighting each other.
Yesterday, Joe Biden accused Facebook of "killing people" because they weren't doing enough to censor what Biden claims is COVID misinformation.
The Gateway Pundit previously reported:
Joe Biden on Friday was asked if he had a message to platforms like Facebook while he was on the South Lawn of the White House about to board Marine One.

TRENDING: TODAY'S DOUBLE STANDARD JUSTICE SYSTEM: Dem Rep Joyce Beatty STORMS US Capitol, Arrested and Released Soon After While Trump Supporters Languish in Isolation in Prison for 6 Months for Same Offense

"What's your message to platforms like Facebook?" a reporter asked Biden.

"They're killing people," Biden said. "I mean they're really — look, the only pandemic we really have is among the unvaccinated and they're killing people."

Classic projection.
Facebook was having none of this.
They issued a blistering response.
"We will not be distracted by accusations which aren't supported by the facts. The fact is that more than 2 billion people have viewed authoritative information about COVID-19 and vaccines on Facebook, which is more than any other place on the internet. More than 3.3 million Americans have also used our vaccine finder tool to find out where and how to get a vaccine. The facts show that Facebook is helping save lives. Period."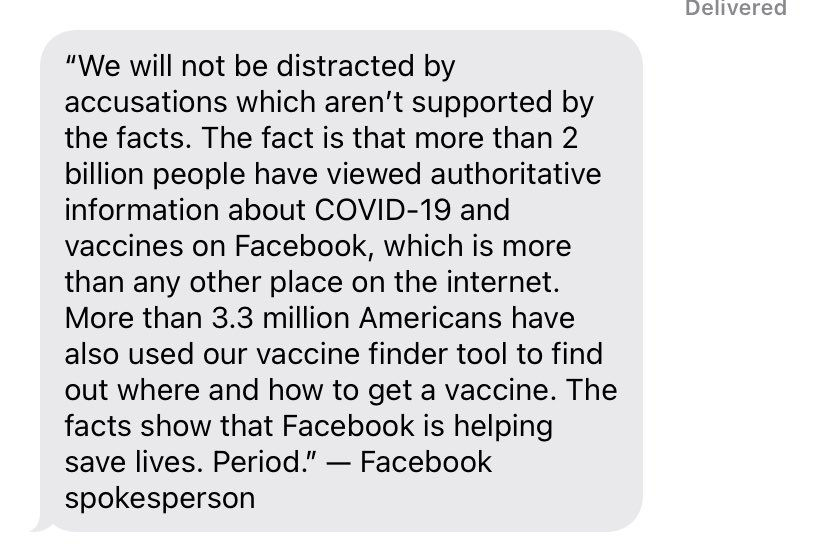 They weren't done either.
An anonymous Facebook official blasted the Biden Administration saying that they were trying to use Facebook as a scapegoat for their failure to hit their vaccination goal.
NEW: FACEBOOK officiall adds this statement (next tweet) accusing White House of using Facebook as a scapegoat for missing its vaccine goals.

Official requested anonymity, but I think it's worth putting here as it may be indicative of how Facebook leadership sees this issue >

— Dylan Byers (@DylanByers) July 16, 2021
Here is what neither Facebook nor Biden will tell you about the COVID vaccine:
The Gateway Pundit previously reported:
There are now 6,985 reported deaths from the COVID-19 vaccinations across the United States this year.

The number of deaths linked to vaccines this year has absolutely skyrocketed. According to the CDC's own data, in 2021 n the first 3 months, the VAERS website recorded over 1,750 deaths due to vaccines in the US.

That number is now at 6,985.
UPDATE: 6,985 Dead from COVID Vaccine Across the US and 411,911 Adverse Reactions Reported – Now a Top 50 Cause of Death in the Country
"They Should Just Be a Weather Channel" – Mike Lindell RIPS FOX News and Announces CNN Will Likely Air His Cyber Symposium Ads (VIDEO)
Mike Lindell joined Steve Bannon on FOX News on Friday morning to discuss his upcoming August symposium.
On Thursday night Lindell announced he was pulling all of his ads from FOX News after they refused to run his ads for his upcoming symposium.
During the segment, Mike Lindell announced that his ads have "passed the first approval" at CNN. Lindell added that CNN has never denied his ads. So it appears that CNN will air his ads but FOX News will not air the ads.
Lindell also praised Newsmax for covering the Trump rallies and taking his ads.
TRENDING: WOW! Jill Biden's Dress Looks EXACTLY Like Hunter Biden's Crack Couch — AND IT WAS ON THE COVER OF VOGUE!
Mike Lindell: "Has anybody ever thought it would come to this in the United States? Where one of your biggest news outlets, FOX News, is supposed to be conservative or whatever, completely turns on the American people? Let's not report the news. Let's just keep talking about the weather. They should just be a weather channel."
Big Tech Tyrants will Now Add Content to a Shared Counterterrorism "Key Database" to Crack down on "White Supremacists and Far-Right Militias"
The Big Tech tyrants will now add content to a shared counterterrorism "key database" to crack down on "white supremacists and far-right militias."
According to Reuters, "A counterterrorism organization formed by some of the biggest U.S. tech companies including Facebook (FB.O) and Microsoft (MSFT.O) is significantly expanding the types of extremist content shared between firms in a key database, aiming to crack down on material from white supremacists and far-right militias."
White supremacists = Christians, Trump supporters
Right-wing militias = Anyone to the right of Karl Marx who disagrees with Biden regime
TRENDING: "This is Under Active Consideration – I Am Part of the Discussion" – Dr. Fauci Says Masks May Come Back for Vaccinated Americans (VIDEO)
We now know that Big Tech is working hand in glove with the government to censor and track conservatives so this database will be used by the Biden regime to arrest political dissidents.
Earlier this year, the Biden Justice Department admitted it was "actively considering" whether to give prosecutors new authorities to bring specific charges against "domestic terrorists."
"One of the things we're looking at is would we need new authorities," Brad Wiegmann, deputy assistant attorney general for the department's national security division, said in April.
Because the current laws on the books to bring charges for arson, violations of weapons or explosives laws isn't enough.
The reality is the DOJ is looking to make new laws to persecute people with whom they politically disagree -with the help of Big Tech.
Meanwhile Republican leadership remains silent on Big Tech/Big Government tyranny.
PayPal Partnering With Anti-Defamation League to Share Info With Law Enforcement, Determine Who Can Use Their ServicesCassandra Fairbanks
PayPal is partnering with the Anti-Defamation League to determine who can use their services.
The partnership was announced on Monday, with the companies claiming that they are going to "investigate how extremist and hate movements in the United States take advantage of financial platforms to fund their criminal activities," according to a report from Reuters.
Of course, the ADL has been known to brand anyone who supports Donald Trump or holds views to the right of Karl Marx as an "extremist."
"The initiative will be led through ADL's Center on Extremism, and will focus on uncovering and disrupting the financial flows supporting white supremacist and anti-government organizations," the report continued. "It will also look at networks spreading and profiting from antisemitism, Islamophobia, racism, anti-immigrant, anti-Black, anti-Hispanic and anti-Asian bigotry."
TRENDING: "This is Under Active Consideration – I Am Part of the Discussion" – Dr. Fauci Says Masks May Come Back for Vaccinated Americans (VIDEO)
PayPal said that the user data collected through the initiatives will be shared with other firms in the financial industry, law enforcement and politicians.
"We're hoping to have impact on fighting hatred and extremism, which sadly seems to be surging in society across the globe," Aaron Karczmer, PayPal's chief risk officer and executive vice president said in an interview with Reuters. "As the son of a Holocaust survivor I know all too well the real world impact that come from hatred and extremist groups."
"We have a unique opportunity to further understand how hate spreads and develop key insights that will inform the efforts of the financial industry, law enforcement, and our communities in mitigating extremist threats," said Jonathan Greenblatt, ADL's CEO.