Facebook Targets Lina Khan With Attempt To Sabotage FTC Antitrust Lawsuit
Over the past few weeks, the Wall Street Journal's editorial board has turned decidedly negative on President Biden's FTC chairwoman Lina Khan, despite the fact that upping the antitrust pressure on Big Tech has become one of those rare areas of bipartisan agreement.
Why is the @WSJ all-in on attacks against someone who wants to break up Big Tech? https://t.co/R10HAppQxz

— Alex Salvi (@alexsalvinews) July 13, 2021
The unfortunate drawback to bipartisan support for breaking up companies like Facebook (or at least restraining their immense market power) is that there's a group of Democratic and Republican lawmakers who are committed to doing Mark Zuckerberg's and Andy Jassy's bidding.
And now, as Congress grapples over passing their first big anti-tech antitrust package (and the White House plans with a sweeping executive order to limit the power of big business including tech by "promoting competition"), Facebook is following in Amazon's footsteps by attempting to force Khan to recuse herself from the antitrust case recently brought against the company by the FTC.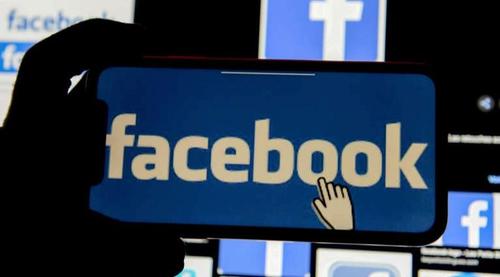 In its recusal petition, Facebook argued that Khan "had already decided the material facts relevant to Facebook's liability in the Commission's pending antitrust lawsuit and already reached legal conclusions that Facebook was liable under the antitrust laws."
It then goes on to cite repeated criticisms of Facebook and other tech companies in Khan's professional history, including her work on the Congressional investigation into large tech companies' power, her academic writing and her role at the Open Markets Institute, an organization backed by groups that advocate for breaking up Big Tech.
Given that Khan literally wrote the playbook for attacking big tech on antitrust grounds, forcing her to officially remove herself from the case would likely hobble the government's (already limited) ability to sue, and win, against a tech giant with nearly unlimited financial resources.
Most importantly, Facebook is asking that Khan not be permitted to participate in deciding whether and how the FTC's case against Facebook should proceed. Since the two current Republican commissioners voted to oppose the FTC lawsuit against Facebook in December, Khan's recusal would leave two Democrats to vote for a new lawsuit. A tie vote means that the matter would not go forward. In other words, forcing Khan to leave the suit would be an automatic win for Facebook, allowing it to avoid anti-tech scrutiny for another generation.
The FTC initially sued Facebook in December alleging that it violated antitrust law in buying Whatsapp. Facebook of course has routinely received help from Hillary Clinton ally and Democratic super-lawyer Marc Elias in its acquisitions, including its buyout of Instagram, which the FTC itself approved.
Facebook released a statement accusing Khan of making "biased" statements.
"Chair Khan has consistently made well-documented statements about Facebook and antitrust matters that would lead any reasonable observer to conclude that she has prejudged the Facebook antitrust case brought by the FTC," said a Facebook spokesperson in a statement.

"To protect the fairness and impartiality of these proceedings, we have requested that Chair Khan recuse herself from involvement with the FTC's antitrust case against Facebook."
Readers can find the full recusal petition below:
The FTC has so far declined to comment on Facebook's petition. But Khan has said during her Senate confirmation hearing that she holds "none of the financial conflicts or personal ties that are the basis of recusal under federal ethics laws."
Facebook Blasts Biden Admin After Biden Attacks Them–Accuses Biden Admin Of Using Them As "Scapegoat"ProTrumpNews Staff
The tyrants are now fighting each other.
Yesterday, Joe Biden accused Facebook of "killing people" because they weren't doing enough to censor what Biden claims is COVID misinformation.
The Gateway Pundit previously reported:
Joe Biden on Friday was asked if he had a message to platforms like Facebook while he was on the South Lawn of the White House about to board Marine One.

TRENDING: TODAY'S DOUBLE STANDARD JUSTICE SYSTEM: Dem Rep Joyce Beatty STORMS US Capitol, Arrested and Released Soon After While Trump Supporters Languish in Isolation in Prison for 6 Months for Same Offense

"What's your message to platforms like Facebook?" a reporter asked Biden.

"They're killing people," Biden said. "I mean they're really — look, the only pandemic we really have is among the unvaccinated and they're killing people."

Classic projection.
Facebook was having none of this.
They issued a blistering response.
"We will not be distracted by accusations which aren't supported by the facts. The fact is that more than 2 billion people have viewed authoritative information about COVID-19 and vaccines on Facebook, which is more than any other place on the internet. More than 3.3 million Americans have also used our vaccine finder tool to find out where and how to get a vaccine. The facts show that Facebook is helping save lives. Period."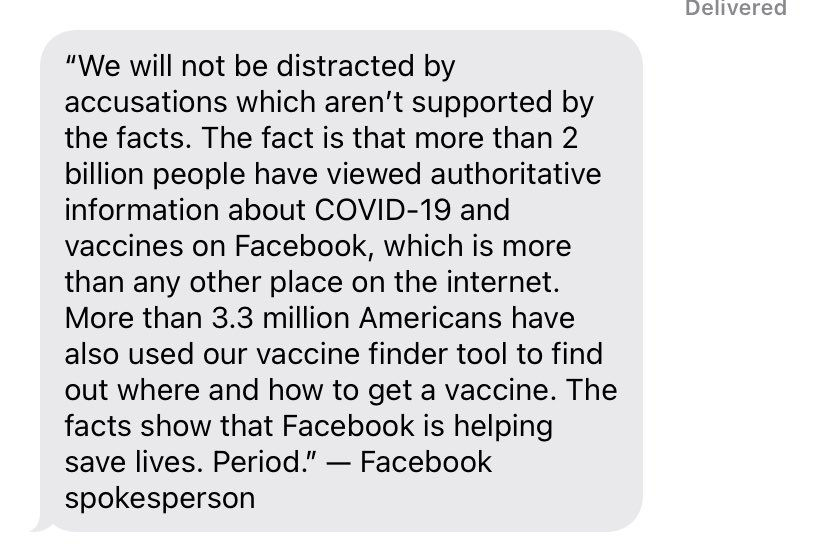 They weren't done either.
An anonymous Facebook official blasted the Biden Administration saying that they were trying to use Facebook as a scapegoat for their failure to hit their vaccination goal.
NEW: FACEBOOK officiall adds this statement (next tweet) accusing White House of using Facebook as a scapegoat for missing its vaccine goals.

Official requested anonymity, but I think it's worth putting here as it may be indicative of how Facebook leadership sees this issue >

— Dylan Byers (@DylanByers) July 16, 2021
Here is what neither Facebook nor Biden will tell you about the COVID vaccine:
The Gateway Pundit previously reported:
There are now 6,985 reported deaths from the COVID-19 vaccinations across the United States this year.

The number of deaths linked to vaccines this year has absolutely skyrocketed. According to the CDC's own data, in 2021 n the first 3 months, the VAERS website recorded over 1,750 deaths due to vaccines in the US.

That number is now at 6,985.
UPDATE: 6,985 Dead from COVID Vaccine Across the US and 411,911 Adverse Reactions Reported – Now a Top 50 Cause of Death in the Country
Republicans Introduce Plan To Allow Users To Sue Big Tech Platforms Over Censorship
Republican members of the House Judiciary Committee are pushing a plan to regulate social media companies, in part, by allowing users who have been censored to sue the Big Tech firms which they describe as "monopolies."
If enacted, the plan, which is meant to serve as a foundation for future legislation, may have significant implications for massive online platforms such as Facebook, Twitter, and Google.
"Big Tech is out to get conservatives," the House Republican members of the committee wrote in a news release about the plan.
"Today, House Judiciary Republicans released their agenda to hold Big Tech accountable. This agenda presents specific proposals that will speed up and strengthen antitrust enforcement, hold Big Tech accountable for its censorship, and increase transparency around Big Tech's decisions," they added.
https://twitter.com/JudiciaryGOP/status/1412781372599570437%7Ctwcamp%5Etweetembed%7Ctwterm%5E1412781372599570437%7Ctwgr%5E%7Ctwcon%5Es1_c10&ref_url=https%3A%2F%2Fthescoop.us%2Frepublicans-introduce-plan-to-allow-users-to-sue-big-tech-platforms-over-censorship%2F
TRENDING: "Women's" GOP Fundraising Group Refuses to Give Money To Marjorie Taylor Greene or Lauren Boebert
According to the outline of the release about the measure, the GOP lawmakers' plan focuses on increasing accountability, and transparency in terms of oversight and enforcement for Big Tech firms.
"Our plan accelerates overdue antitrust scrutiny. The laws currently on the books can and should be used to break up Big Tech. The problem has been, however, that these actions take too long and they allow companies years of legal maneuvering," the Republicans wrote, as it outlined steps needed to speed up the process and "incentivize robust challenges" to the dominance of the tech platforms.
The GOP lawmakers are seeking that cases concerning antitrust laws should be given expedited trial consideration and be permitted to directly appeal to the Supreme Court, rather than going through a lengthy process of going through appellate courts.
They are also pushing forward that attorneys general of each state be allowed to use the same "fast-track procedures available to the federal government so that they will be on equal footing in their cases."
In terms of holding the "Big Tech accountable," the Republican lawmakers want to overhaul tech companies' liability protection granted under Section 230 — noting that social media platforms, for example, have "exploited this protection to make subjective content moderation decisions, often in a manner harmful to conservative voices."
The lawmakers also argued that Americans who feel that they have been wronged by the Big Tech companies or subjected to "unlawful censorship" should also be able to "directly challenge Big Tech in court."
"It is wrong that these platforms control and censor speech with impunity. But it is nearly impossible for Americans to seek a remedy against Big Tech's censorship decisions in court," the House Republican members of the Judiciary Committee said.
"For far too long, Big Tech has been able to censor the views of conservatives with effectively no recourse available to those affected. This proposal would create a statutory basis for Americans to directly challenge Big Tech in court for its censorship and silencing of conservatives," they added.
To increase transparency in Big Tech, the Republicans are also proposing that "content moderation decisions and censorship … be listed, with specificity and particularity, on a publicly available website."
"Our plan brings transparency to Big Tech's content moderation decisions. Not only are the platforms currently immunized from lawsuits regarding their censorship, but all of their decisions about who to censor are made in secret," the Republicans wrote.
"Recognizing that these platforms function as the main vessels for speech in the modern era, this plan for bringing transparency to Big Tech should include "content moderation transparency."
The proposal notes that Big Tech's content moderation decisions can be imposed summarily and with little justification.
"This proposal will require that for large platforms, content moderation decisions and censorship must be listed, with specificity and particularity, on a publicly available website. A platform's failure to do so would result in a massive fine," it added.
GOP "had enough" of Big Tech censorship
Ranking member and Ohio Rep. Jim Jordan said that "Big Tech has targeted conservatives for far too long" and that "House Judiciary Republicans have had enough."
https://twitter.com/Jim_Jordan/status/1412782444734976003%7Ctwcamp%5Etweetembed%7Ctwterm%5E1412782444734976003%7Ctwgr%5E%7Ctwcon%5Es1_c10&ref_url=https%3A%2F%2Fthescoop.us%2Frepublicans-introduce-plan-to-allow-users-to-sue-big-tech-platforms-over-censorship%2F
"We believe that this agenda will serve as the Republican platform to take on Big Tech going forward and unite our party to reject Big Tech's 'cancel culture' practices," he added.
Aside from Jordan, other Republican members of the committee include Reps. Matt Gaetz (Florida), Steve Chabot (Ohio), Louie Gohmert (Texas), Darrell Issa (California), Ken Buck (Colorado), Mike Johnson (Louisiana), Andy Biggs (Arizona), Tom McClintock (California), W. Gregory Steube (Florida), Tom Tiffany (Wisconsin), Thomas Massie (Kentucky), Chip Roy (Texas), Dan Bishop (North Carolina), Michelle Fischbach (Minnesota), Victoria Spartz (Indiana), Scott Fitzgerald (Wisconsin), Cliff Bentz (Oregon), and Burgess Owens (Utah).
The proposal from House Republican members of the Judiciary Committee comes weeks after the committee as a whole voted to advance six bipartisan antitrust bills aimed at curbing the power of Big Tech firms.
Republicans argued, however, that those measures passed did not address the censorship of the same platforms against conservative voices on their platforms.
Earlier this week, former President Donald Trump also announced that he will lead a class-action lawsuit against social media giants Facebook, Twitter and Google as well as their respective CEOs over his claims of censorship after the three tech companies earlier banned him from their platforms following the January 6 Capitol Hill attack.
Download 'The Scoop TV' video streaming app, the Conservative Alternative to Netflix!
Facebook Can Be Held Liable For Not Protecting Against Underage Sex Trafficking, Court Rules
Facebook just got some bad news.
The Texas Supreme Court ruled against Facebook in a teen sex trafficking case.
The plaintiffs in the case argued that Facebook did not attempt to stop sex trafficking on its platform.
Facebook argued that Section 230 protected them.
TRENDING: BREAKING UPDATE: HISTORY MADE AS FINAL ARIZONA BALLOT INSPECTIONS COMPLETED – Huge Preliminary Report Expected Monday When True Number of Ballot Totals Announced
Straight to jail

BREAKING: Texas Supreme Court rules Facebook failed to protect against underage sex trafficking https://t.co/WrT2YsOyhp

— Poso (@JackPosobiec) June 26, 2021
The Texas Supreme Court ruled Friday that Facebook can be held liable for sex traffickers that use its platform to recruit and prey on child victims.

As the Houston Chronicle reported, the ruling followed three local lawsuits involving teenage victims who had met their traffickers through Facebook's messaging tools. The plaintiffs said Facebook was negligent and did not attempt to key sex trafficking off its technology.

Facebook has argued that it is shielded by the protections of Section 230 — part of an internet law that states online platforms are not liable for what people post on their services — and should therefore not be held responsible for what is posted on its platform.

But the Texas Supreme Court said Section 230 doesn't mean Facebook can operate as a "lawless no-man's-land," as the Chronicle reported.
Senior Editor for Human Events Jack Posobiec called the ruling a "landmark ruling".
He pointed out why:
Landmark ruling

Three victims of child sex trafficking sued Facebook in Texas for allowing reciters to operate on their platform

FB argued 230 gave them immunity

TX Supreme Court ruled 230 does not https://t.co/WrT2YsOyhp

— Poso (@JackPosobiec) June 26, 2021
According to the Human Trafficking Institute's 2020 Federal Human Trafficking Report, 65% of online sex trafficking took place on Facebook.
Data from the last two decades included in the human trafficking report showed that 30% of all victims identified in federal sex trafficking cases since 2000 were recruited online.

In 2020 in the U.S., 59% of online recruitment of identified victims in active cases took place on Facebook alone. The report also states that 65% of identified child sex trafficking victims recruited on social media were recruited through Facebook.
Twitter has also faced action over how they handle sex crimes on their platform.
Twitter has been sued by two survivors of child sexual abuse who say that Twitter did not take down images of them that were being used as blackmail.
The Gateway Pundit previously reported: 
The lawsuit alleged that Twitter refused to take down photos of him at the age of 13 that were being used to blackmail him by a predator.

The victim alleges that Twitter reviewed the photos and claimed that it did not violate their terms of service.

The images were not taken down until law enforcement got involved.

A second survivor is now joining the lawsuit.
Why doesn't Big Tech shift resources used to censor conservatives to stopping sex trafficking?